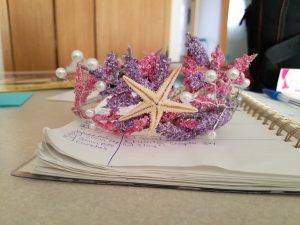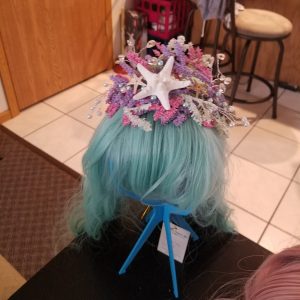 Mermaid Crowns a perfect way to celebrate Summer!
Here is what you'll need to make your own:
– wire cutters
-flora Bond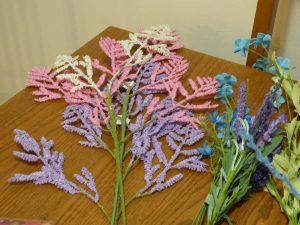 -Floral wire
-floral pieces looking like coral
-metal headband
-pearls
-shells or starfish
-notions for flare
-a piece of cardboard to place craft on
-disposable gloves (for those who don't like glue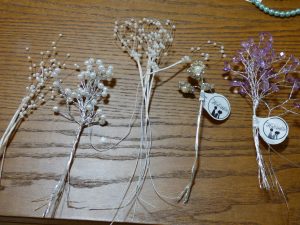 on their fingers)
Once you have gathered all the necessary things the craft should come together. It will take some time. I took a little over a day to create both of the crowns shown.
Step 1:Start with trimming your fake coral to desired size (I used three different colors on each)
Step 2: Once finished with cutting your coral place the desired bottom piece and flex it around the headband to see where you desire the placement
Step 3: Cut several pieces of floral wire. These will be used to keep the coral attached as the glue dries. You can leave them as added support or remove them later.
Step 4: Place glue all along the path of the coral. Use wire to attach the coral to spots with glue
Step 5: Let glue dry for a few hours.
Step 6: Once dry you can remove wire or continue by repeating the first six steps until all 3 pieces of coral has been adhered.
Step 7: Now for the fun part! Twist any pieces together at one side or the base/bottom of the crown and glue them together. This will be a base to better glue your decorative items.
Step 8: Once the glue has dried you can start sticking your decorations on. I started with the starfish which I glued on. Wait for the glue to dry before adding anything else as they are the star of the show.
Step 9: Twist on beaded and pearl embellishments  on the sides wrapping their wire around the headband.
Step 10: Add pearls around starfish if desired with glue or wire.
For the Child size crown I also glued on ribbon on the sides to prevent the wire from bothering sensitive little heads.
After 24 hours they are ready to go (Got to make sure that glue is dried!)
And that's it. A bit time consuming but worth it for the Little Mermaid in your life or Mermaid in general!
To see video instruction check out my YouTube Channel J Lea Richardson!