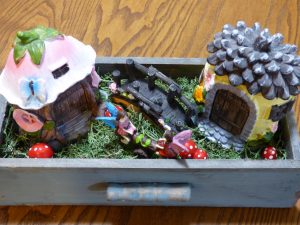 In this weeks edition of Fairy Crafty we created this gorgeous little fairy Garden and the best part about it is it cost less than $20 to make. You can find the Video for making this on my YouTube Channel: J. Lea Richardson Fairy Crafty Episode 1: Fairy Garden
Here is what you'll need to make your own:
Fairy figures and houses (you can make little Fae houses with sticks if you want, but here I went with ceramic for both the fairies and figures) I found the little houses, the Fae bridge, and Fairies at a local dollar store however, thrift stores and 50% off coupons for craft stores can also give you great finds for a craft such as this.  My cost: $4
A container of sorts again check your dollar store first for cheaper finds or around the house for something you don't use anymore like planting pots. The drawer was purchased at 50% off at Hobby Lobby and had once housed an edible arrangement I had made for my mother which she returned to me. My cost: $6
Reindeer Moss . I got mine at the dollar store! My cost: $1
Floral foam due to the size of my container and wanting one piece rather than two cut to size I purchased mine at a craft store using a coupon. Normal cost$3.50 mine around $2.10
The mushrooms were purchased at a craft store with another coupon price $2.99 I got 40% off of that
You will also need a hot glue gun and the proper glue sticks for your glue gun (if you don't have a glue gun they run about $5 and glue sticks cost about the same.
Another option would be flora bond a superglue like substance that works on florals if you don't wish to use hot glue Cost for that around $4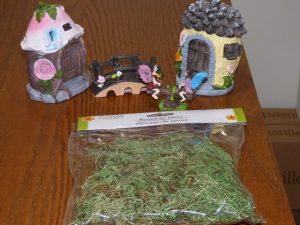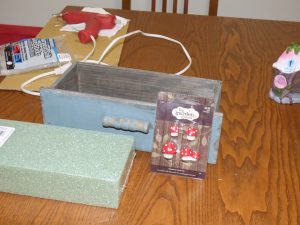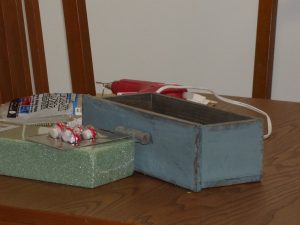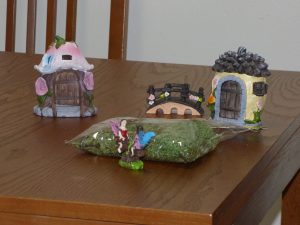 Now that we have the shopping list completed time for crafting!
Step 1: Place floral foam in your container
Step 2: Plug in glue gun and let it heat up
Step 3: While the glue gun is heating up play around with your figures and decide placement
Step 4: Start gluing figures to foam you can also start gluing the moss down at this point or wait until all figures are locked in place
***WARNING***** Caution: Glue guns are hot so is the glue use as wooden dowel or something other than your fingers to press Reindeer Moss into the glue (unless you are like me and just seem to enjoy getting multiple burns and blisters on your finger tips)
Step 5: After everything is glued down let the glue sit for a few minutes then gently tip upside down to shake out excess greens
Step 6: If you have fairy lights you can drape them over the project but it's not necessary. It does however, add to the magic!
And now it's done!!! You can keep it or gift it! Your Choice!!!
My Total cost for this Project was roughly $17 after taxes with glue costs figured in.
Please check out and like the video on my YouTube Channel J. Lea Richardson!!!! (  Please give me a thumbs up and subscribe for more)
Hope you Enjoyed this!!
J. Lea